Upcoming Events in the Region
April 19th - 22nd West of England Chess Union Easter Congress. Royal Beacon Hotel, Exmouth, Devon EX8 2AG Web-site
May 17th - 19th 30th Frome Congress. For details and on-line or paper entry see the Congress Home Page.
_______________________________________________________
Games
The 30th Frome Congress is in two months time. It began as a small event of under 100 players but rapidly grew to twice this size and has attracted some big names. below is a game from 1992 between two Grandmasters. The commentary is by Leonard Barden writing in the Guardian.
Please send in games. These can be anything with a local interest. Interesting games from any Division of the Somerset League are especially welcome.

Previous games shown here can be found in the Games Archive.
_______________________________________________________
Chess Puzzle of the Day
Puzzle from chessvideos.tv

(Click on the image below to solve the puzzle)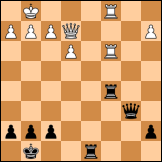 Chess Quote of the Day
________________________________________________________
Latest Somerset News Headlines
Latest Somerset League results, fixtures and current League tables
20/03/2019 - Somerset League. Congratulations to Bath on winning Division 3 East
19/03/2019 - Somerset Cup. Congratulations to Sedgemoor for winning the Somerset Cup by by beating Yeovil 5 - 3 in the final.
15/03/2019 - WECU Counties Competition. Despite some very creditable performances Somerset lost their U160 match against Devon on March 2nd 10 - 6. Full results here.
16/02/2019 - Somerset Wyvern. Alan Stonebridge of Wellington has issued the following statement. "I organise Somerset Wyvern, a club on chess.com for chess players with Somerset connections. Playing chess on the internet may not be for everyone but chess.com is an excellent website with over twenty-one million players and I suspect there are many more players out there who might like to play.

I formed the club a couple of years ago in order for Somerset to play in the UK County Championships and the club made a very positive start immediately. We now have over fifty members, eighteen of whom play chess over the board in Somerset chess clubs. We gained promotion from the County Championship Third Division in our first year and followed this with promotion from Division Two last year. We are currently playing our first matches in the First Division against Yorkshire and Leinster. We are also currently involved in the 2018 County Cup Final, a 20 board match against Sussex, having defeated Staffordshire, Renfrewshire and Devon on the way to the final.

Anyone with connections to our county can join - we do have one member who lives in New Zealand - they just need to search for "Somerset Wyvern" in chess.com and ask me, "Greengooner," to invite them to become a member."
16/02/2019 - ECF plan for monthly grades. There is more information here and here on the ECF web-site about the planned move to monthly grading and Elo-style ratings. Note that it is expected that both League and club internal tournament game results will be reported monthly. It is planned to upgrade the League Management System (LMS) to harvest League results automatically each month. Club internal results are likely to be more problematic.
09/02/2019 - The latest ECF newsletter announces the intention to move to monthly grading updates from January 2020. At the same time, it is proposed to change to 4-figure FIDE-style ratings. Most players will probably welcome the latter change, although, given the inherent uncertainty in rating calculations, 4-figure grades are no more accurate than 3-figure ones. The ECF are inviting players to express their opinions.
20/01/2019 - WECU Counties Competition. An under-strength Somerset team performed very creditably against a significantly stronger Cornwall team in yesterday's County match. Final score was 10-6. Individual game results.
20/01/2019 - Ben Edgell has resigned as Somerset President and ECF/WECU delegate. Ben thanks those who have supported him in his roles.
04/01/2019 - WECU Counties Competition. The next match is against Cornwall on the 19th January. There will be Open and U160 teams.
16/12/2018 - Frome Congress. The 30th Frome Congress will be held on the 17th - 19th May. Full details and entry information may be found on the Congress web-site.
06/11/2018 - Web-site host. This web-site now has a new host service. Please let your web-master know if you encounter problems whilst viewing the site.
15/10/2018 - New Membership Fees. At the ECF AGM on 13/10/2018 new fees for the 2019/20 and 2020/21 seasons were approved. The complete breakdown is here. Adult Bronze membership is set to rise from £16 to £18 and then £20. Adult Silver from £23.50 to £27 and then £30. Adult Gold from £34 to £38 and then £41. The Board's justification for this is contained in this document. Questions may legitimately be asked about the wisdom of increases of between 20% and 30% (in round figures) at a time of austerity and economic uncertainty, particularly considering the lack of any prior consultation of the wider membership. There was no mention of these proposed increases in the ECF October newsletter to members.
19/09/2018 - Somerset won the Open Section of the WECU Jamboree held on 15/09/2018 with 7.5 points ahead of Devon on 6.5 and Cornwall on 4. Somerset were less successful in the Graded Section, which was won by East Devon. Individual game results. Thanks are due to Guy Greenland for organizing the teams. Guy has also agreed to act as Match Captain for a Somerset team in the 2018-19 WECU Counties Championship.
04/09/2018 - Somerset League Rules have been updated to reflect decisions made at the 2018 AGM.
29/08/2018 - The new season's Somerset League fixtures are now published (see link above). The club contacts page has also been updated.
29/08/2018 - Time controls. Clubs are reminded that the 2018 AGM decided to change the default time control to 90 minutes per game (i.e. no final 15 minute session). Although this is a guillotine finish it is still technically classed as quick-play and the usual quick-play finish rules apply in the final 2 minutes. However, the AGM also decided to allow matches to use a different time control if both teams agree. The principal purpose of the added flexibility is to permit the use of incremental time controls in accordance with the standard 2018 FIDE Laws of Chess. (In the January 2018 Laws quick-play finish time controls have been down-graded to the same status as a chess variant.) If an incremental time control is used, 80 minutes plus 10 seconds per move from start of game is recommended (as used successfully in the Bristol League).
19/07/2018 - Jon Underwood from Devon points out that next season will be the 100th time the County Championships have been contested (more than 100 years old but there were some wars etc...). It would be very sad if this is the year that Somerset drop out of the Championships for want of a match captain. Is there any Somerset player willing to take on this role? As noted below (07/06/2018) your webmaster can help anyone interested in taking on this post by supplying player contact details.
07/06/2018 - Your Results Officer and Webmaster would like to step down from both roles at the 2019 AGM. He is of course willing to provide any necessary help, training and on-going support for anyone interested in taking on either role. Contact Gerry for more details.
07/06/2018 - The post of Somerset match captain is currently vacant. This post is extremely important and needs to be filled urgently if Somerset are to field a County team next season. The first County match is the Jamboree on 15th September. Your webmaster can help anyone interested in taking on this post by supplying player contact details.
07/06/2018 - At the 2018 SCCA AGM held on the 4th June the following decisions were made: a) Quick-play finishes are no longer mandatory and clubs may agree an alternative time control, e.g. one with 10 second increments as used in the Bristol League. b) The default time control was changed from 15 minute quick-play finish to a 90 minute per game 'guillotine' finish. c) The default time, i.e. the elapsed time before a game may be declared lost by default in the event of a player not turning up, was set to 30 minutes. d) In Divisions 2 and 3 the restriction that a player may not play for more than one team in the same Division was changed to 'no player may play for more than one club'. (The purpose of the latter is to help clubs field teams where otherwise they may have difficulties through shortage of players.) Not all of these changes are uncontroversial.
For more on these and previous news items see the news page.
_____________________________________________________________________________________________